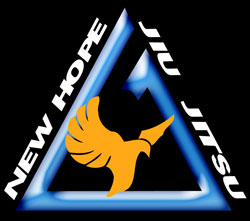 O2MAA New Hope Jiu-Jitsu Ministry

New Hope Jiu-Jitsu (NHJJ) Ministry is a ministry at New Hope Christian Fellowship Church, Oahu that started in August 2007. Classes are held and are part of the O2 Martial Arts Academy. NHJJ Ministry hopes to share the art of Brazilian Jiu-Jitsu in a welcoming and family-oriented environment, in which members can fellowship and build genuine relationships with one another.

"For we are God's workmanship, created in Christ Jesus to do good works, which God prepared in advance for us to do."
Ephesians 2:10 (NIV)

The New Hope Jiu-Jitsu Ministry hopes to plant a seed and help expand the community of Christians by reaching out to others for Christ through the art of Jiu-Jitsu.

Classes are held inside the O2 Martial Arts Academy on Saturdays at 6:30-8:30PM.

The NHJJ Ministry is led by head Gracie Jiu-Jitsu instructor, Gye Nitta (brown belt) and Ministry Leader, Micha Etrata (blue belt).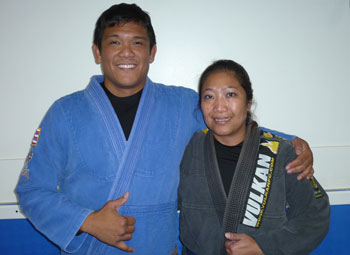 Gye Nitta is a brown belt in Relson Gracie Jiu-Jitsu and has become one of O2 Martial Arts Academy's top instructors. Gye has been an active competitor and one of the lions of the O2 Martial Arts Academy winning grappling tournaments as a white, blue and purple belt in the Maui Jiu-Jitsu Open, NAGA and the Pan American BJJ Championships. Gye has also attended New Hope since 2005 and helps out by driving the New Hope Shuttle bus or performing a variety of tasks where ever he is needed.

Michaelyn "Micha" Etrata leads the ministry portion of the class and has attended New Hope since 1992 and currently serves in the New Hope Jiu-Jitsu and Life Change ministries as a prayer counselor. Micha is also a 1st degree black belt from Universal Kempo Karate. She currently trains under Brian Wong, a purple belt in BJJ himself, who introduced her to Brazilian Jiu-Jitsu.

Students of NHJJ are welcomed and encouraged to participate in any of the other classes of the O2 Martial Arts Academy. See the entire class schedule by clicking here.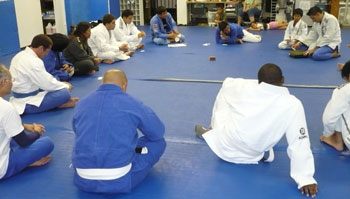 If you would like to find out more about New Hope Christian Fellowship Church or about Christ, for information can be found at their website.